Emma Grigson
Watching my two children grow up in the safety of our local community in Adelaide, I'm acutely aware of how critical and essential was the work we did in Afghanistan. Every child should have the opportunity to play, learn and laugh without worrying about the evils of war.
It was 2010 and I was in Afghanistan with the NATO forces, attached to Afghan national Army forces on a base in Kandahar province. I was just 27 years old. The trip included various outreach programs, medical missions and each day I worked with my Afghani counterparts to try and make a difference.
In our first week, a bus load of children had been targeted by the Taliban. Innocent children, returning from a wedding celebration. I had seen dead bodies before, but still it's a shock. It's not something you 'get used' to.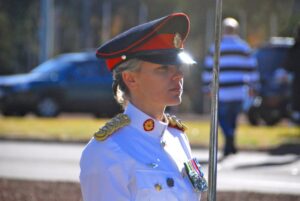 Emma Grigson studied at the Australian Defence Force Academy (ADFA) as a member of the last all-female division: she was one of only 30 women in her class of almost 250. She graduated in 2003 and went on to the Royal Military College – Duntroon to study military leadership, graduating as a pilot in December 2004. After eight months of training, she returned to Adelaide to care for her father, then transferred to become a medical officer. She remained in this role for the next 9 years, supporting various humanitarian missions. Her role also included a posting to South East Asia with Malaysian, Thai and Singaporean forces where she trained in jungle warfare.
In 2010, Emma deployed for ten months to the Middle East where her work included remote community outreach programs, women's clinics, telemedicine (distance medicine) programs and combat medical patrols. In 2013, she was selected to take part in an intelligence program, undergoing training in intelligence operations and strategies before working with infantry and strategic operations in an intelligence role. This led to a posting overseas in Washington, conducting analysis of disease and unusual health activities across the globe.
Emma returned to Adelaide in September 2017. Today, she is a proud mum to two young children and married to a former Army Officer. In her spare time she volunteers in her local community, and was recently selected for the Australian Institute of Sport (AIS) Executive Talent Program. On 1st May this year, Emma will officially retire from the Australian Defence Force after a career spanning almost 19 years.