The National Aboriginal & Torres Strait Islander War Memorial located in Adelaide's CBD is a poignant tribute to the contribution of First Nations personnel in Australia's defence force history.
Despite being barred from serving in the armed forces during the first half of the 20th Century, Aboriginal and Torres Strait Islanders have enlisted and served in every war and peacekeeping mission Australia has been in since the Boer War (1899-1902).
Former Service policies did not offer First Nations people the option to identify their cultural heritage on enlistment, causing a significant part of Australia's conflict history to be long overlooked.
Recognising this disappointing gap in remembrance, Adelaide was among the first capital cities in the country to commemorate the service and sacrifice of all Aboriginal and Torres Strait Islander people through a national memorial.
In 2013, the National Aboriginal & Torres Strait Islander War Memorial was unveiled by Former Governor-General, The Honourable Dame Quentin Bryce AD CVO, at the Torrens Parade Ground on Kaurna Country.
The bronze cast memorial was designed by award-winning Indigenous cultural arts leader Lee-Ann Tjunypa Buckskin and South Australian artists Michelle Nikou, Tony Rosella, Robert Hannaford AM (sculptor) and Tim Thomson (bronze casting).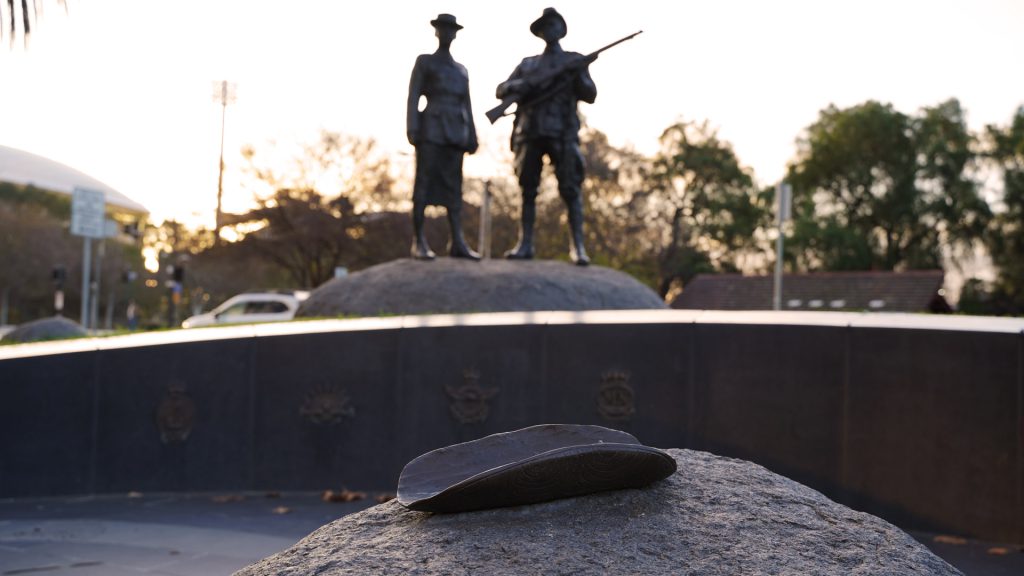 Located near the River Torrens/Karrawirra Pari-ityangka, the sculpture depicts a soldier in uniform from World War I and a female figure dressed in the Australian Army Medical Women's Service Uniform from World War II.
The figures are standing above a traditional carrying vessel called a coolamon – which stands as a ceremonial centre and focal point – their prominent position represents their role as defenders of Australia and holders of a deeper knowledge of the land.
The Rainbow Serpent – a creature from the Dreamtime creation story – surrounds the two figures, while a walkway leading to the artwork bears the names of First Nations servicemen and servicewomen.
The memorial provides an important focal point to honour the memory and contribution of Aboriginal and Torres Strait Islander servicemen and women.
Veterans SA encourages you to visit or learn more about the National Aboriginal & Torres Strait Islander War Memorial and the service history of our First Nations people.
Lest We Forget.