Irene Cowley
This is the story of Irene Cowley WR2578.
Irene served on the HMAS Rushcutters Bay, she was born on July 25, 1925 in Adelaide and discharged on May 10,1946
At 18 years of age Irene Forrester was living and working in her father's garage at Darlington. She joined the Woman's Royal Australian Navy in February 1944 and was sent to Port Adelaide Naval Depot for a week of training with other girls stationed there for some time.
All were then sent to Sydney to HMS Rushcutter at Rushcutters bay as cooks. Irene was sent to the Officer's mess as a cook. She was living in private accommodation with one of the officer's wife on the North Shore. While in Sydney she met her future husband, also in the Navy. On the base sleeping one night the next morning she could not find her knickers (Bondi bloomers). The story goes that on one of the Navy ships in Queensland there are Irene's knickers hanging from the flag pole. She never found out who took them from her room.
On August 1, 1940 the depot was commissioned as HMAS Rushcutters and during WW2 , the site housed anti-submarine school, the radar and gunnery instruction school and served as the base for the mosquito fleet, harbour defence motor launches, the Fair miles and the Naval patrol Boats.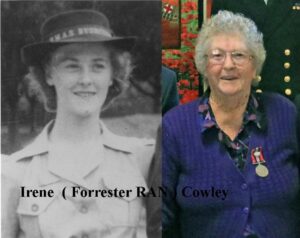 The training of RAN radar operators transferred from Rushcutters to HMAS Watson in 1943. The technical function of radar operators remained at HMAS Rushcutters. The site became a training facility for RAN experimental labs and research labs.
Over 3000 women enlisted in the WRANS during World War2, with 2,671 active at the wars end 10% of the overall RAN strength, but significantly fewer than the 18,000 each in the Women's Auxiliary Australian Air Force, and Australian Women's Army Service.
Irene's story was collected by the Mannum RSL to preserve the history of locals in the area.